Browsing articles in "Search Engine Optimisation"
Despite the large availability of free social media and blogging platforms, there are still signs and indeed reports that some law firms have poor or, in extreme cases, non-existent brand awareness. Contrastingly, some are doing exceptionally well and winning business from social media and web presence. Below are seven top tips for law firms looking to improve their search engine optimisation (SEO):-
1. Choose targeted keywords for which your firm's clients or prospective clients would search. To get more scientific, use tools like Google's Keyword Planner;

2. Include targeted keywords in the right places on your firm's website, especially home page and key landing pages (think meta titles, headings and throughout the content itself), but don't stuff keywords;

3. Create or integrate a blog that presents well to search engines and write content using targeted keywords;

4. Write great content and publish them either to your website or to other websites or blogs as guest legal posts.

5. Utilise powerful and growing social media platforms like twitter or linkedin to send social signals to your firm's website;

6. Don't overdo it! Google's Panda, Penguin and Exact match domain algorithm changes have meant that those trying to game the system will get caught out – always think about user experience;

7. Keep your law firm's website and blog updated with great quality content.
Those are some tips that barely scratch the surface but should keep you on the right track. For further information on how to implement a professional SEO strategy for your law firm, please get in touch Moore Legal Technology's Legal SEO Experts.
Ever wondered how Google works? In becoming proficient in search engine optimisation (SEO), it is important to understand how Google's spiders crawl the web. For a start, they tend NOT to look like this one:-
.
This flowchart below illustrates the basic things everybody serious about SEO and blogging should know. I hope it helps to improve your knowledge and understanding. Any questions or comments, please let me know.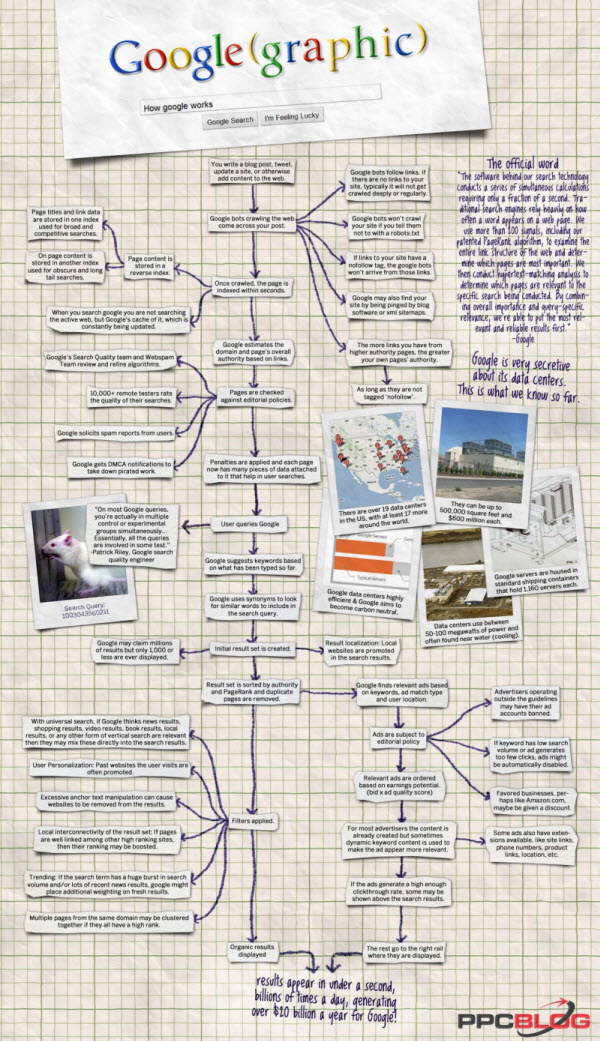 Infographic by the Pay Per Click Blog
For further information, please get in touch with me at Wardblawg.com or, for a professional legal technology service for law firms, speak to Stephen Moore of Moore Legal Technology.